Sony NEX-5 - sample images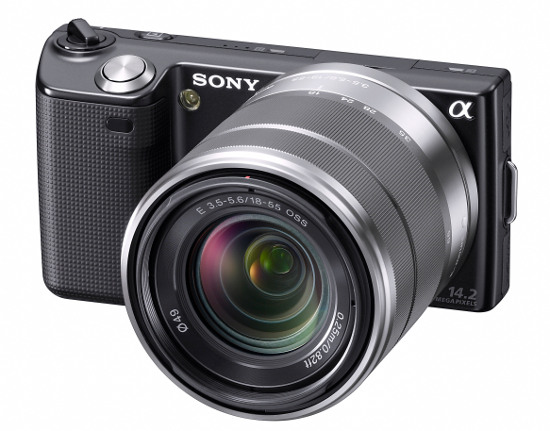 One of our editors had the opportunity to "play" with recently announced Sony products. This enables us to present a photo gallery of samples made with Sony NEX-5 camera and E 16 mm f/2.8 and 18-55 mm f/3.5-5.6 E OSS lenses. Enjoy!
Sample images
All images were taken as JPEGs with zero level of sharpening and noise reduction off.
Camera:

Sony NEX-5


Parameters:

18 mm, f/6.3, exp. 1/15 sek., ISO 200


File:

JPEG, 4592 x 3056 pix, 3.19 MB

Camera:

Sony NEX-5


Parameters:

55 mm, f/6.3, exp. 1/250 sek., ISO 200


File:

JPEG, 4592 x 3056 pix, 3.31 MB

Camera:

Sony NEX-5


Parameters:

41 mm, f/6.3, exp. 1/20 sek., ISO 1600


File:

JPEG, 4592 x 3056 pix, 4.59 MB

Camera:

Sony NEX-5


Parameters:

18 mm, f/6.3, exp. 1/125 sek., ISO 1600


File:

JPEG, 4592 x 3056 pix, 3.66 MB

Camera:

Sony NEX-5


Parameters:

46 mm, f/6.3, exp. 1/30 sek., ISO 1600


File:

JPEG, 4592 x 3056 pix, 3.84 MB

Camera:

Sony NEX-5


Parameters:

55 mm, f/6.3, exp. 1/1600 sek., ISO 1600


File:

JPEG, 4592 x 3056 pix, 3.72 MB

Camera:

Sony NEX-5


Parameters:

55 mm, f/6.3, exp. 1/60 sek., ISO 1600


File:

JPEG, 4592 x 3056 pix, 3.97 MB

Camera:

Sony NEX-5


Parameters:

18 mm, f/6.3, exp. 1/400 sek., ISO 1600


File:

JPEG, 4592 x 3056 pix, 6.72 MB

Camera:

Sony NEX-5


Parameters:

18 mm, f/6.3, exp. 1/250 sek., ISO 800


File:

JPEG, 4592 x 3056 pix, 6.72 MB

Camera:

Sony NEX-5


Parameters:

18 mm, f/6.3, exp. 1/60 sek., ISO 200


File:

JPEG, 4592 x 3056 pix, 6.75 MB

Camera:

Sony NEX-5


Parameters:

55 mm, f/6.3, exp. 1/40 sek., ISO 200


File:

JPEG, 4592 x 3056 pix, 6.03 MB

Camera:

Sony NEX-5


Parameters:

16 mm, f/2.8, exp. 1/320 sek., ISO 200


File:

JPEG, 4592 x 3056 pix, 6.19 MB

Camera:

Sony NEX-5


Parameters:

16 mm, f/2.8, exp. 1/250 sek., ISO 200


File:

JPEG, 4592 x 3056 pix, 5.97 MB

Camera:

Sony NEX-5


Parameters:

16 mm, f/5.6, exp. 1/60 sek., ISO 200


File:

JPEG, 4592 x 3056 pix, 6.34 MB

Camera:

Sony NEX-5


Parameters:

16 mm, f/2.8, exp. 1/8 sek., ISO 200


File:

JPEG, 4592 x 3056 pix, 3.19 MB

Camera:

Sony NEX-5


Parameters:

16 mm, f/2.8, exp. 1/30 sek., ISO 800


File:

JPEG, 4592 x 3056 pix, 3.88 MB

Camera:

Sony NEX-5


Parameters:

16 mm, f/2.8, exp. 1/30 sek., ISO 800


File:

JPEG, 4592 x 3056 pix, 4.31 MB

Camera:

Sony NEX-5


Parameters:

16 mm, f/2.8, exp. 1/250 sek., ISO 800


File:

JPEG, 4592 x 3056 pix, 3.84 MB

Camera:

Sony NEX-5


Parameters:

16 mm, f/2.8, exp. 1/4000 sek., ISO 800


File:

JPEG, 4592 x 3056 pix, 4.31 MB

Camera:

Sony NEX-5


Parameters:

16 mm, f/5.6, exp. 1/1250 sek., ISO 800


File:

JPEG, 4592 x 3056 pix, 4.38 MB

Camera:

Sony NEX-5


Parameters:

16 mm, f/8.0, exp. 1/400 sek., ISO 800


File:

JPEG, 4592 x 3056 pix, 4.47 MB

Camera:

Sony NEX-5


Parameters:

16 mm, f/8.0, exp. 1/320 sek., ISO 800


File:

JPEG, 4592 x 3056 pix, 4.81 MB

Camera:

Sony NEX-5


Parameters:

16 mm, f/8.0, exp. 1/160 sek., ISO 800


File:

JPEG, 4592 x 3056 pix, 4.06 MB

Camera:

Sony NEX-5


Parameters:

16 mm, f/8.0, exp. 1/60 sek., ISO 400


File:

JPEG, 4592 x 3056 pix, 4.41 MB

Camera:

Sony NEX-5


Parameters:

16 mm, f/8.0, exp. 1/30 sek., ISO 400


File:

JPEG, 4592 x 3056 pix, 6.31 MB

Camera:

Sony NEX-5


Parameters:

16 mm, f/4.0, exp. 1/200 sek., ISO 400


File:

JPEG, 4592 x 3056 pix, 6.03 MB

Camera:

Sony NEX-5


Parameters:

16 mm, f/2.8, exp. 1/160 sek., ISO 200


File:

JPEG, 4592 x 3056 pix, 5.06 MB

Camera:

Sony NEX-5


Parameters:

16 mm, f/2.8, exp. 1/800 sek., ISO 400


File:

JPEG, 4592 x 3056 pix, 4.88 MB

Camera:

Sony NEX-5


Parameters:

16 mm, f/5.6, exp. 1/200 sek., ISO 400


File:

JPEG, 4592 x 3056 pix, 5.47 MB

Camera:

Sony NEX-5


Parameters:

16 mm, f/5.6, exp. 1/40 sek., ISO 3200


File:

JPEG, 4592 x 3056 pix, 4.59 MB