Nikkor AF-S 85 mm f/1.4G - sample images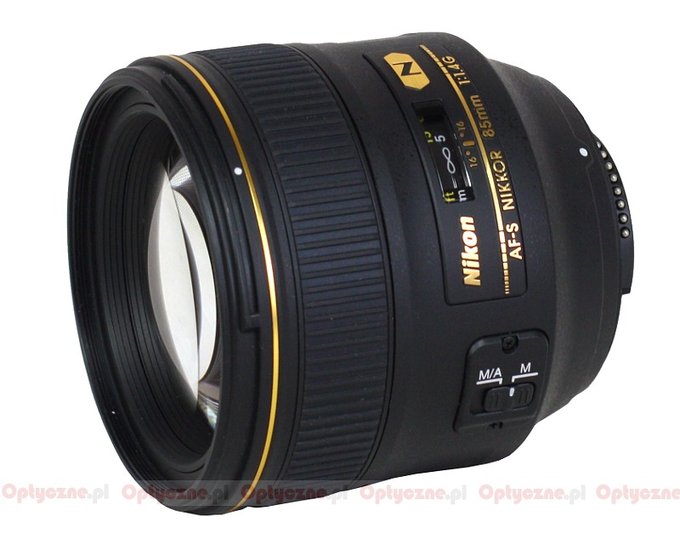 One of the most exciting announcements of the recent days was the introduction of Nikkor AF-S 85mm f/1.4G lens. Renewal of the line of shorter primes was one of the most important issues raised recently by Nikon SLR users. The company complied with that request, and thanks to that we can present you the gallery of sample images made by this lens mounted on Nikon D3x.
We remind you that the photos were taken as JPEG files, stored directly in the camera with the lowest possible compression and the lowest available level of sharpening and with noise reduction off.

Sample images
Camera:

Nikon D3x


Parameters:

85 mm, f/1.4, exp. 1/5000 sek., ISO


File:

JPEG, 6048 x 4032 pix, 8.47 MB

Camera:

Nikon D3x


Parameters:

85 mm, f/1.4, exp. 1/2000 sek., ISO 100


File:

JPEG, 6048 x 4032 pix, 6.49 MB

Camera:

Nikon D3x


Parameters:

85 mm, f/1.4, exp. 1/200 sek., ISO 400


File:

JPEG, 6048 x 4032 pix, 8.18 MB

Camera:

Nikon D3x


Parameters:

85 mm, f/1.4, exp. 1/320 sek., ISO 400


File:

JPEG, 6048 x 4032 pix, 9.26 MB

Camera:

Nikon D3x


Parameters:

85 mm, f/1.4, exp. 1/200 sek., ISO 400


File:

JPEG, 6048 x 4032 pix, 8.5 MB

Camera:

Nikon D3x


Parameters:

85 mm, f/1.4, exp. 1/320 sek., ISO 800


File:

JPEG, 6048 x 4032 pix, 9.13 MB

Camera:

Nikon D3x


Parameters:

85 mm, f/1.4, exp. 1/1600 sek., ISO 200


File:

JPEG, 6048 x 4032 pix, 7.63 MB

Camera:

Nikon D3x


Parameters:

85 mm, f/1.4, exp. 1/6400 sek., ISO 200


File:

JPEG, 6048 x 4032 pix, 6.68 MB

Camera:

Nikon D3x


Parameters:

85 mm, f/1.4, exp. 1/8000 sek., ISO


File:

JPEG, 6048 x 4032 pix, 7.9 MB

Camera:

Nikon D3x


Parameters:

85 mm, f/1.4, exp. 1/2500 sek., ISO


File:

JPEG, 6048 x 4032 pix, 9.33 MB

Camera:

Nikon D3x


Parameters:

85 mm, f/1.4, exp. 1/8000 sek., ISO 100


File:

JPEG, 6048 x 4032 pix, 10.11 MB

Camera:

Nikon D3x


Parameters:

85 mm, f/1.4, exp. 1/5000 sek., ISO


File:

JPEG, 6048 x 4032 pix, 9.18 MB

Camera:

Nikon D3x


Parameters:

85 mm, f/1.8, exp. 1/6400 sek., ISO 100


File:

JPEG, 6048 x 4032 pix, 5.29 MB

Camera:

Nikon D3x


Parameters:

85 mm, f/2.0, exp. 1/4000 sek., ISO 100


File:

JPEG, 6048 x 4032 pix, 7.78 MB

Camera:

Nikon D3x


Parameters:

85 mm, f/2.0, exp. 1/8000 sek., ISO 100


File:

JPEG, 6048 x 4032 pix, 8.32 MB

Camera:

Nikon D3x


Parameters:

85 mm, f/2.0, exp. 1/5000 sek., ISO 100


File:

JPEG, 6048 x 4032 pix, 9.04 MB

Camera:

Nikon D3x


Parameters:

85 mm, f/2.0, exp. 1/5000 sek., ISO 100


File:

JPEG, 6048 x 4032 pix, 6.56 MB

Camera:

Nikon D3x


Parameters:

85 mm, f/2.8, exp. 1/3200 sek., ISO 100


File:

JPEG, 6048 x 4032 pix, 9.81 MB

Camera:

Nikon D3x


Parameters:

85 mm, f/2.8, exp. 1/2000 sek., ISO 100


File:

JPEG, 6048 x 4032 pix, 10.86 MB

Camera:

Nikon D3x


Parameters:

85 mm, f/2.8, exp. 1/3200 sek., ISO 100


File:

JPEG, 6048 x 4032 pix, 9.83 MB

Camera:

Nikon D3x


Parameters:

85 mm, f/2.8, exp. 1/4000 sek., ISO 100


File:

JPEG, 6048 x 4032 pix, 8.05 MB

Camera:

Nikon D3x


Parameters:

85 mm, f/4.0, exp. 1/1600 sek., ISO 100


File:

JPEG, 6048 x 4032 pix, 10.87 MB

Camera:

Nikon D3x


Parameters:

85 mm, f/4.0, exp. 1/1600 sek., ISO 100


File:

JPEG, 6048 x 4032 pix, 9.83 MB

Camera:

Nikon D3x


Parameters:

85 mm, f/4.0, exp. 1/1000 sek., ISO 100


File:

JPEG, 6048 x 4032 pix, 11.4 MB

Camera:

Nikon D3x


Parameters:

85 mm, f/4.0, exp. 1/2000 sek., ISO 100


File:

JPEG, 6048 x 4032 pix, 9.49 MB

Camera:

Nikon D3x


Parameters:

85 mm, f/4.0, exp. 1/1600 sek., ISO 100


File:

JPEG, 6048 x 4032 pix, 10.43 MB

Camera:

Nikon D3x


Parameters:

85 mm, f/5.6, exp. 1/1600 sek., ISO 100


File:

JPEG, 6048 x 4032 pix, 9.65 MB

Camera:

Nikon D3x


Parameters:

85 mm, f/5.6, exp. 1/800 sek., ISO 100


File:

JPEG, 6048 x 4032 pix, 9.7 MB

Camera:

Nikon D3x


Parameters:

85 mm, f/5.6, exp. 1/250 sek., ISO 100


File:

JPEG, 6048 x 4032 pix, 11.84 MB

Camera:

Nikon D3x


Parameters:

85 mm, f/5.6, exp. 1/800 sek., ISO 100


File:

JPEG, 6048 x 4032 pix, 8.32 MB

Camera:

Nikon D3x


Parameters:

85 mm, f/6.3, exp. 1/640 sek., ISO 100


File:

JPEG, 6048 x 4032 pix, 10.67 MB

Camera:

Nikon D3x


Parameters:

85 mm, f/8.0, exp. 1/250 sek., ISO 100


File:

JPEG, 6048 x 4032 pix, 11.3 MB

Camera:

Nikon D3x


Parameters:

85 mm, f/8.0, exp. 1/400 sek., ISO 100


File:

JPEG, 6048 x 4032 pix, 10.52 MB