Olympus M.Zuiko Digital 45 mm f/1.8 - sample images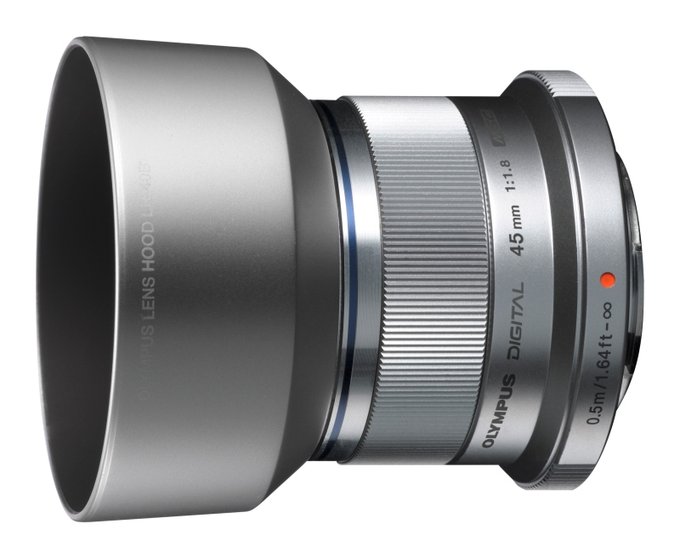 As many as three cameras and two lenses of Micro 4/3 system were announced on June 30, 2011 by Olympus company. The Olympus M. Zuiko Digital 45 mm f/1.8 lens was among them. Today we present the sample pictures taken using this lens mounted on Olympus E-PL1 body.
All images all JPEG files stright from the camera. The lowes level of sharpening and lowest level of compression was used.

Sample images
Camera:

Olympus E-PL1


Parameters:

45 mm, f/1.8, exp. 1/500 sek., ISO 100


File:

JPEG, 4032 x 3024 pix, 5.06 MB

Camera:

Olympus E-PL1


Parameters:

45 mm, f/1.8, exp. 1/1600 sek., ISO 100


File:

JPEG, 4032 x 3024 pix, 4.12 MB

Camera:

Olympus E-PL1


Parameters:

45 mm, f/1.8, exp. 1/640 sek., ISO 100


File:

JPEG, 4032 x 3024 pix, 3.93 MB

Camera:

Olympus E-PL1


Parameters:

45 mm, f/1.8, exp. 1/50 sek., ISO 400


File:

JPEG, 4032 x 3024 pix, 5.13 MB

Camera:

Olympus E-PL1


Parameters:

45 mm, f/1.8, exp. 1/800 sek., ISO 100


File:

JPEG, 4032 x 3024 pix, 4.8 MB

Camera:

Olympus E-PL1


Parameters:

45 mm, f/1.8, exp. 1/1000 sek., ISO 100


File:

JPEG, 4032 x 3024 pix, 4.68 MB

Camera:

Olympus E-PL1


Parameters:

45 mm, f/2.0, exp. 1/2000 sek., ISO 100


File:

JPEG, 4032 x 3024 pix, 4.16 MB

Camera:

Olympus E-PL1


Parameters:

45 mm, f/2.2, exp. 1/320 sek., ISO 100


File:

JPEG, 4032 x 3024 pix, 4.22 MB

Camera:

Olympus E-PL1


Parameters:

45 mm, f/2.0, exp. 1/100 sek., ISO 400


File:

JPEG, 4032 x 3024 pix, 4.6 MB

Camera:

Olympus E-PL1


Parameters:

45 mm, f/2.2, exp. 1/80 sek., ISO 400


File:

JPEG, 4032 x 3024 pix, 4.87 MB

Camera:

Olympus E-PL1


Parameters:

45 mm, f/2.8, exp. 1/2000 sek., ISO 100


File:

JPEG, 4032 x 3024 pix, 4.27 MB

Camera:

Olympus E-PL1


Parameters:

45 mm, f/2.8, exp. 1/2000 sek., ISO 100


File:

JPEG, 4032 x 3024 pix, 5.8 MB

Camera:

Olympus E-PL1


Parameters:

45 mm, f/2.8, exp. 1/2000 sek., ISO 100


File:

JPEG, 4032 x 3024 pix, 4.46 MB

Camera:

Olympus E-PL1


Parameters:

45 mm, f/4.5, exp. 1/640 sek., ISO 100


File:

JPEG, 4032 x 3024 pix, 5.19 MB

Camera:

Olympus E-PL1


Parameters:

45 mm, f/4.0, exp. 1/2000 sek., ISO 100


File:

JPEG, 4032 x 3024 pix, 4.36 MB

Camera:

Olympus E-PL1


Parameters:

45 mm, f/4.0, exp. 1/2000 sek., ISO 100


File:

JPEG, 4032 x 3024 pix, 6.05 MB

Camera:

Olympus E-PL1


Parameters:

45 mm, f/4.5, exp. 1/1600 sek., ISO 100


File:

JPEG, 4032 x 3024 pix, 5.77 MB

Camera:

Olympus E-PL1


Parameters:

45 mm, f/5.6, exp. 1/1000 sek., ISO 100


File:

JPEG, 4032 x 3024 pix, 6.21 MB

Camera:

Olympus E-PL1


Parameters:

45 mm, f/6.3, exp. 1/1000 sek., ISO 100


File:

JPEG, 4032 x 3024 pix, 4.81 MB

Camera:

Olympus E-PL1


Parameters:

45 mm, f/8.0, exp. 1/500 sek., ISO 100


File:

JPEG, 4032 x 3024 pix, 4.33 MB

Camera:

Olympus E-PL1


Parameters:

45 mm, f/6.3, exp. 1/800 sek., ISO 100


File:

JPEG, 4032 x 3024 pix, 5.72 MB