Samyang 24 mm f/1.4 ED AS UMC - sample images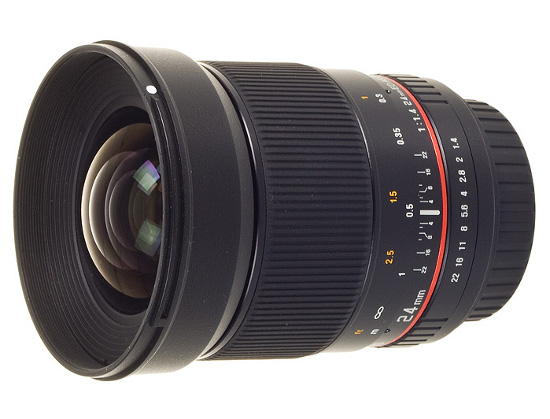 While taking pictures in the chill temperature of -20 deg C is not the most pleasant experience we can imagine, we decided for it to show you the possibilities of a new Samyang 24 mm f/1.4 ED AS UMC lens, which had just arrived to our editorial staff. Enjoy!
As usual we show you JPEG images, straight from the camera (in this case full-frame Canon EOS 1Ds MkIII was used), recorded in the highest resolution and the lowest degree of sharpening and compression.

Sample images
Camera:

Canon 1Ds MkIII


Parameters:

24 mm, f/1.4, exp. 1/8000 sek., ISO 100


File:

JPEG, 5616 x 3744 pix, 7.85 MB

Camera:

Canon 1Ds MkIII


Parameters:

24 mm, f/1.4, exp. 1/8000 sek., ISO 100


File:

JPEG, 5616 x 3744 pix, 7.71 MB

Camera:

Canon 1Ds MkIII


Parameters:

24 mm, f/1.4, exp. 1/60 sek., ISO 400


File:

JPEG, 5616 x 3744 pix, 7.9 MB

Camera:

Canon 1Ds MkIII


Parameters:

24 mm, f/1.4, exp. 1/2500 sek., ISO 200


File:

JPEG, 5616 x 3744 pix, 6.36 MB

Camera:

Canon 1Ds MkIII


Parameters:

24 mm, f/1.4, exp. 1/8000 sek., ISO 100


File:

JPEG, 5616 x 3744 pix, 7.33 MB

Camera:

Canon 1Ds MkIII


Parameters:

24 mm, f/1.4, exp. 1/8000 sek., ISO 100


File:

JPEG, 5616 x 3744 pix, 8.32 MB

Camera:

Canon 1Ds MkIII


Parameters:

24 mm, f/2.0, exp. 1/1000 sek., ISO 200


File:

JPEG, 5616 x 3744 pix, 6.27 MB

Camera:

Canon 1Ds MkIII


Parameters:

24 mm, f/2.0, exp. 1/6400 sek., ISO 100


File:

JPEG, 5616 x 3744 pix, 8.21 MB

Camera:

Canon 1Ds MkIII


Parameters:

24 mm, f/2.0, exp. 1/8000 sek., ISO 100


File:

JPEG, 5616 x 3744 pix, 7.97 MB

Camera:

Canon 1Ds MkIII


Parameters:

24 mm, f/2.0, exp. 1/8000 sek., ISO 100


File:

JPEG, 5616 x 3744 pix, 7.31 MB

Camera:

Canon 1Ds MkIII


Parameters:

24 mm, f/2.0, exp. 1/80 sek., ISO 400


File:

JPEG, 5616 x 3744 pix, 8.34 MB

Camera:

Canon 1Ds MkIII


Parameters:

24 mm, f/2.0, exp. 1/5000 sek., ISO 100


File:

JPEG, 5616 x 3744 pix, 7.05 MB

Camera:

Canon 1Ds MkIII


Parameters:

24 mm, f/2.8, exp. 1/6400 sek., ISO 100


File:

JPEG, 5616 x 3744 pix, 7.75 MB

Camera:

Canon 1Ds MkIII


Parameters:

24 mm, f/2.8, exp. 1/5000 sek., ISO 100


File:

JPEG, 5616 x 3744 pix, 8.75 MB

Camera:

Canon 1Ds MkIII


Parameters:

24 mm, f/2.8, exp. 1/40 sek., ISO 400


File:

JPEG, 5616 x 3744 pix, 8.86 MB

Camera:

Canon 1Ds MkIII


Parameters:

24 mm, f/2.8, exp. 1/8000 sek., ISO 100


File:

JPEG, 5616 x 3744 pix, 7.52 MB

Camera:

Canon 1Ds MkIII


Parameters:

24 mm, f/2.8, exp. 1/5000 sek., ISO 100


File:

JPEG, 5616 x 3744 pix, 9.15 MB

Camera:

Canon 1Ds MkIII


Parameters:

24 mm, f/2.8, exp. 1/5000 sek., ISO 100


File:

JPEG, 5616 x 3744 pix, 8.61 MB

Camera:

Canon 1Ds MkIII


Parameters:

24 mm, f/4.0, exp. 1/2000 sek., ISO 100


File:

JPEG, 5616 x 3744 pix, 9.22 MB

Camera:

Canon 1Ds MkIII


Parameters:

24 mm, f/4.0, exp. 1/3200 sek., ISO 100


File:

JPEG, 5616 x 3744 pix, 8.36 MB

Camera:

Canon 1Ds MkIII


Parameters:

24 mm, f/4.0, exp. 1/3200 sek., ISO 100


File:

JPEG, 5616 x 3744 pix, 8.12 MB

Camera:

Canon 1Ds MkIII


Parameters:

24 mm, f/4.0, exp. 1/2000 sek., ISO 100


File:

JPEG, 5616 x 3744 pix, 8.97 MB

Camera:

Canon 1Ds MkIII


Parameters:

24 mm, f/4.0, exp. 1/2000 sek., ISO 100


File:

JPEG, 5616 x 3744 pix, 7.61 MB

Camera:

Canon 1Ds MkIII


Parameters:

24 mm, f/5.6, exp. 1/640 sek., ISO 100


File:

JPEG, 5616 x 3744 pix, 9.61 MB

Camera:

Canon 1Ds MkIII


Parameters:

24 mm, f/5.6, exp. 1/1250 sek., ISO 100


File:

JPEG, 5616 x 3744 pix, 8.84 MB

Camera:

Canon 1Ds MkIII


Parameters:

24 mm, f/5.6, exp. 1/1250 sek., ISO 100


File:

JPEG, 5616 x 3744 pix, 8.89 MB

Camera:

Canon 1Ds MkIII


Parameters:

24 mm, f/5.6, exp. 1/1600 sek., ISO 100


File:

JPEG, 5616 x 3744 pix, 7.94 MB

Camera:

Canon 1Ds MkIII


Parameters:

24 mm, f/5.6, exp. 1/1000 sek., ISO 100


File:

JPEG, 5616 x 3744 pix, 10.44 MB

Camera:

Canon 1Ds MkIII


Parameters:

24 mm, f/8.0, exp. 1/250 sek., ISO 100


File:

JPEG, 5616 x 3744 pix, 9.88 MB

Camera:

Canon 1Ds MkIII


Parameters:

24 mm, f/8.0, exp. 1/500 sek., ISO 100


File:

JPEG, 5616 x 3744 pix, 9.26 MB

Camera:

Canon 1Ds MkIII


Parameters:

24 mm, f/8.0, exp. 1/1000 sek., ISO 100


File:

JPEG, 5616 x 3744 pix, 8.56 MB

Camera:

Canon 1Ds MkIII


Parameters:

24 mm, f/8.0, exp. 1/640 sek., ISO 100


File:

JPEG, 5616 x 3744 pix, 7.89 MB

Camera:

Canon 1Ds MkIII


Parameters:

24 mm, f/8.0, exp. 1/400 sek., ISO 100


File:

JPEG, 5616 x 3744 pix, 10.07 MB