Fujifilm FinePix X-Pro1 - sample images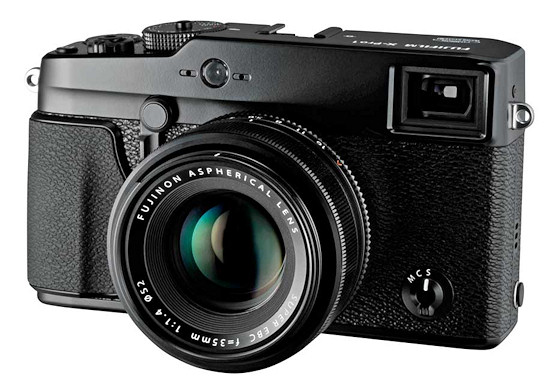 Due to the fact that Fujifilm Poland organized the press conference this morning, we had opportunity to shot some sample pictures using almost final versions of Fujifilm FinePix X-Pro1 camera and three new XF lenses. Enjoy!
As usual we used JPEG files stright from the camera with noise reduction off and sharpening at minimum level.
Moreover, at the bottom of the page one can find the comparison of the TIFF files from X-Pro1 to TIFF files obtained by scanning photos obtained on Mamiya 645 camera with Fujifilm Velvia 100F film. Both sets of photos were shot in similar conditions. These photographs are made by Wojciech Wojtczak and are presented thanks to the Fujifilm Poland company.
Sample pictures
Fujifilm X-Pro1 + Fujinon XF 18 mm f/2 R

Camera:

Fujifilm X-Pro1


Parameters:

18 mm, f/2.0, exp. 1/1800 sek., ISO 200


File:

JPEG, 4896 x 3264 pix, 3.4 MB

Camera:

Fujifilm X-Pro1


Parameters:

18 mm, f/4.0, exp. 1/1000 sek., ISO 400


File:

JPEG, 4896 x 3264 pix, 3.4 MB

Camera:

Fujifilm X-Pro1


Parameters:

18 mm, f/5.6, exp. 1/1100 sek., ISO 800


File:

JPEG, 4896 x 3264 pix, 3.47 MB

Camera:

Fujifilm X-Pro1


Parameters:

18 mm, f/2.0, exp. 1/3000 sek., ISO 400


File:

JPEG, 4896 x 3264 pix, 3.12 MB

Camera:

Fujifilm X-Pro1


Parameters:

18 mm, f/2.8, exp. 1/1000 sek., ISO 200


File:

JPEG, 4896 x 3264 pix, 3.57 MB

Camera:

Fujifilm X-Pro1


Parameters:

18 mm, f/2.8, exp. 1/950 sek., ISO 200


File:

JPEG, 4896 x 3264 pix, 3.22 MB
Fujifilm X-Pro1 + Fujinon XF 35 mm f/1.4 R

Camera:

Fujifilm X-Pro1


Parameters:

35 mm, f/1.4, exp. 1/550 sek., ISO 200


File:

JPEG, 4896 x 3264 pix, 3.59 MB

Camera:

Fujifilm X-Pro1


Parameters:

35 mm, f/1.4, exp. 1/600 sek., ISO 200


File:

JPEG, 4896 x 3264 pix, 3.61 MB

Camera:

Fujifilm X-Pro1


Parameters:

35 mm, f/2.0, exp. 1/250 sek., ISO 200


File:

JPEG, 4896 x 3264 pix, 3.82 MB

Camera:

Fujifilm X-Pro1


Parameters:

35 mm, f/2.0, exp. 1/300 sek., ISO 200


File:

JPEG, 4896 x 3264 pix, 3.39 MB

Camera:

Fujifilm X-Pro1


Parameters:

35 mm, f/2.8, exp. 1/140 sek., ISO 400


File:

JPEG, 4896 x 3264 pix, 4.09 MB

Camera:

Fujifilm X-Pro1


Parameters:

35 mm, f/4.0, exp. 1/250 sek., ISO 800


File:

JPEG, 4896 x 3264 pix, 4.69 MB

Camera:

Fujifilm X-Pro1


Parameters:

35 mm, f/4.0, exp. 1/320 sek., ISO 800


File:

JPEG, 4896 x 3264 pix, 4.45 MB

Camera:

Fujifilm X-Pro1


Parameters:

35 mm, f/5.6, exp. 1/320 sek., ISO 1600


File:

JPEG, 4896 x 3264 pix, 4.92 MB

Camera:

Fujifilm X-Pro1


Parameters:

35 mm, f/5.6, exp. 1/280 sek., ISO 1600


File:

JPEG, 4896 x 3264 pix, 5.31 MB
Fujifilm X-Pro1 + Fujinon XF 60 mm f/2.4 R Macro

Camera:

Fujifilm X-Pro1


Parameters:

60 mm, f/4.5, exp. 1/120 sek., ISO 800


File:

JPEG, 4896 x 3264 pix, 4.02 MB

Camera:

Fujifilm X-Pro1


Parameters:

60 mm, f/8.0, exp. 1/280 sek., ISO 6400


File:

JPEG, 4896 x 3264 pix, 5.4 MB

Camera:

Fujifilm X-Pro1


Parameters:

60 mm, f/5.6, exp. 1/200 sek., ISO 3200


File:

JPEG, 4896 x 3264 pix, 5.36 MB

Camera:

Fujifilm X-Pro1


Parameters:

60 mm, f/5.6, exp. 1/50 sek., ISO 1600


File:

JPEG, 4896 x 3264 pix, 4.6 MB

Camera:

Fujifilm X-Pro1


Parameters:

60 mm, f/4.0, exp. 1/70 sek., ISO 800


File:

JPEG, 4896 x 3264 pix, 3.83 MB

Camera:

Fujifilm X-Pro1


Parameters:

60 mm, f/2.8, exp. 1/75 sek., ISO 400


File:

JPEG, 4896 x 3264 pix, 3.43 MB

Camera:

Fujifilm X-Pro1


Parameters:

60 mm, f/2.4, exp. 1/52 sek., ISO 3200


File:

JPEG, 4896 x 3264 pix, 5.63 MB

Camera:

Fujifilm X-Pro1


Parameters:

60 mm, f/2.4, exp. 1/210 sek., ISO 12800


File:

JPEG, 4896 x 3264 pix, 6.7 MB

Camera:

Fujifilm X-Pro1


Parameters:

60 mm, f/2.4, exp. 1/350 sek., ISO 25600


File:

JPEG, 4896 x 3264 pix, 7.04 MB
Velvia 100F vs Fujifilm X-Pro1 comparison by W. Wojtczak
Aparat:

Mamiya 645 + Fuji Velvia 100F


Parametry:

45 mm, f/8.0, exp. 1/125 sek., ISO 100


Plik:

TIFF, 5767 x 4243 pix, 70 MB

Camera:

Mamiya 645 + Fuji Velvia 100F


Parameters:

210 mm, f/2.8, exp. 1/125 sek., ISO 100


File:

TIFF, 5767 x 4243 pix, 70 MB

Camera:

Mamiya 645 + Fuji Velvia 100F


Parameters:

150 mm, f/4.0, exp. 1/125 sek., ISO 100


File:

TIFF, 5767 x 4243 pix, 70 MB
Camera:

Fujifilm X-Pro1


Parameters:

18 mm, f/8.0, exp. 1/250 sek., ISO 200


File:

TIFF, 4896 x 3264 pix, 91.5 MB

Camera:

Fujifilm X-Pro1


Parameters:

60 mm, f/2.4, exp. 1/250 sek., ISO 200


File:

TIFF, 4896 x 3264 pix, 91.5 MB

Camera:

Fujifilm X-Pro1


Parameters:

35 mm, f/4.0, exp. 1/125 sek., ISO 200


File:

TIFF, 4896 x 3264 pix, 91.5 MB