Sony Alpha SLT-A57 - sample images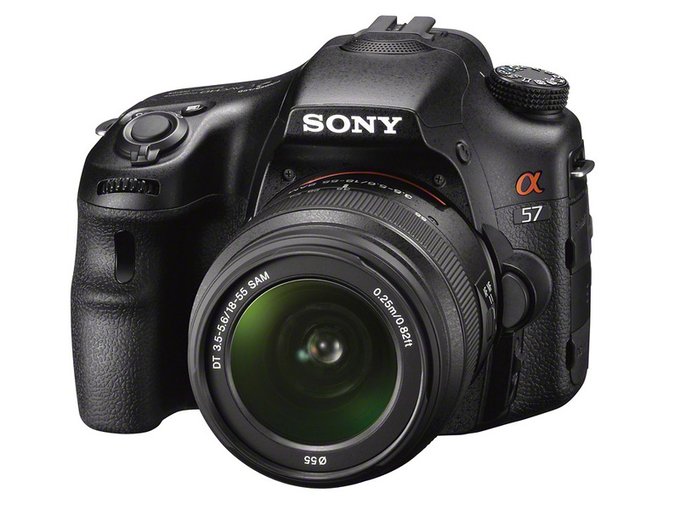 At today's Sony press conference we had the opportunity to play with perhaps the most interesting novelty presented by the Sony company at the beginning of the year. It is of course Sony Alpha SLT-A57 camera equipped in the APS-C sensor with a resolution of 16 million pixels. We invite you to visit the gallery of sample photos taken with this camera.
It should be stated here that we were using pre-production camera, so the images from the final version of the camera may differ from samples shown below. Please note that all photos are JPEG and straight from the camera with the sharpening set to the lowest available value. We used Sony DT 16-50 mm f/2.8 SSM lens.
Sample images
Camera:

Sony Alpha SLT-A57


Parameters:

45 mm, f/2.8, exp. 1/100 sek., ISO 800


File:

JPEG, 4912 x 3264 pix, 3.06 MB

Camera:

Sony Alpha SLT-A57


Parameters:

26 mm, f/4.0, exp. 1/320 sek., ISO 400


File:

JPEG, 4912 x 3264 pix, 3.25 MB

Camera:

Sony Alpha SLT-A57


Parameters:

45 mm, f/2.8, exp. 1/800 sek., ISO 400


File:

JPEG, 4912 x 3264 pix, 2.84 MB

Camera:

Sony Alpha SLT-A57


Parameters:

24 mm, f/8.0, exp. 1/160 sek., ISO 100


File:

JPEG, 4912 x 3264 pix, 4.81 MB

Camera:

Sony Alpha SLT-A57


Parameters:

24 mm, f/8.0, exp. 1/320 sek., ISO 200


File:

JPEG, 4912 x 3264 pix, 5.06 MB

Camera:

Sony Alpha SLT-A57


Parameters:

24 mm, f/8.0, exp. 1/640 sek., ISO 400


File:

JPEG, 4912 x 3264 pix, 4.53 MB

Camera:

Sony Alpha SLT-A57


Parameters:

40 mm, f/8.0, exp. 1/250 sek., ISO 200


File:

JPEG, 4912 x 3264 pix, 5.16 MB

Camera:

Sony Alpha SLT-A57


Parameters:

40 mm, f/8.0, exp. 1/500 sek., ISO 400


File:

JPEG, 4912 x 3264 pix, 4.66 MB

Camera:

Sony Alpha SLT-A57


Parameters:

40 mm, f/8.0, exp. 1/1000 sek., ISO 800


File:

JPEG, 4912 x 3264 pix, 4.91 MB

Camera:

Sony Alpha SLT-A57


Parameters:

26 mm, f/4.0, exp. 1/80 sek., ISO 800


File:

JPEG, 4912 x 3264 pix, 5.38 MB

Camera:

Sony Alpha SLT-A57


Parameters:

26 mm, f/4.0, exp. 1/160 sek., ISO 1600


File:

JPEG, 4912 x 3264 pix, 5.5 MB

Camera:

Sony Alpha SLT-A57


Parameters:

26 mm, f/5.6, exp. 1/125 sek., ISO 3200


File:

JPEG, 4912 x 3264 pix, 5.28 MB

Camera:

Sony Alpha SLT-A57


Parameters:

26 mm, f/8.0, exp. 1/60 sek., ISO 100


File:

JPEG, 4912 x 3264 pix, 5.75 MB

Camera:

Sony Alpha SLT-A57


Parameters:

26 mm, f/8.0, exp. 1/125 sek., ISO 200


File:

JPEG, 4912 x 3264 pix, 6.38 MB

Camera:

Sony Alpha SLT-A57


Parameters:

26 mm, f/8.0, exp. 1/250 sek., ISO 400


File:

JPEG, 4912 x 3264 pix, 5.88 MB

Camera:

Sony Alpha SLT-A57


Parameters:

20 mm, f/5.6, exp. 1/640 sek., ISO 12800


File:

JPEG, 4912 x 3264 pix, 5.66 MB

Camera:

Sony Alpha SLT-A57


Parameters:

20 mm, f/5.6, exp. 1/320 sek., ISO 6400


File:

JPEG, 4912 x 3264 pix, 5.31 MB

Camera:

Sony Alpha SLT-A57


Parameters:

20 mm, f/5.6, exp. 1/125 sek., ISO 3200


File:

JPEG, 4912 x 3264 pix, 4.63 MB

Camera:

Sony Alpha SLT-A57


Parameters:

22 mm, f/4.0, exp. 1/125 sek., ISO 3200


File:

JPEG, 4912 x 3264 pix, 4.53 MB

Camera:

Sony Alpha SLT-A57


Parameters:

22 mm, f/4.0, exp. 1/250 sek., ISO 6400


File:

JPEG, 4912 x 3264 pix, 5.47 MB

Camera:

Sony Alpha SLT-A57


Parameters:

22 mm, f/4.0, exp. 1/500 sek., ISO 12800


File:

JPEG, 4912 x 3264 pix, 6.06 MB

Camera:

Sony Alpha SLT-A57


Parameters:

22 mm, f/4.0, exp. 1/800 sek., ISO 6400


File:

JPEG, 4912 x 3264 pix, 5.47 MB

Camera:

Sony Alpha SLT-A57


Parameters:

40 mm, f/4.0, exp. 1/60 sek., ISO 3200


File:

JPEG, 4912 x 3264 pix, 3.47 MB

Camera:

Sony Alpha SLT-A57


Parameters:

30 mm, f/4.0, exp. 1/60 sek., ISO 6400


File:

JPEG, 4912 x 3264 pix, 4.44 MB

Camera:

Sony Alpha SLT-A57


Parameters:

30 mm, f/3.5, exp. 1/80 sek., ISO 6400


File:

JPEG, 4912 x 3264 pix, 5.03 MB

Camera:

Sony Alpha SLT-A57


Parameters:

28 mm, f/4.0, exp. 1/160 sek., ISO 12800


File:

JPEG, 4912 x 3264 pix, 4.78 MB

Camera:

Sony Alpha SLT-A57


Parameters:

28 mm, f/4.0, exp. 1/60 sek., ISO 3200


File:

JPEG, 4912 x 3264 pix, 3.75 MB

Camera:

Sony Alpha SLT-A57


Parameters:

50 mm, f/4.0, exp. 1/160 sek., ISO 3200


File:

JPEG, 4912 x 3264 pix, 4.81 MB

Camera:

Sony Alpha SLT-A57


Parameters:

16 mm, f/4.0, exp. 1/60 sek., ISO 1600


File:

JPEG, 4912 x 3264 pix, 4.53 MB

Camera:

Sony Alpha SLT-A57


Parameters:

28 mm, f/6.3, exp. 1/80 sek., ISO 1600


File:

JPEG, 4912 x 3264 pix, 4.97 MB