Sigma S 150-600 mm f/5-6.3 DG DN OS - sample shots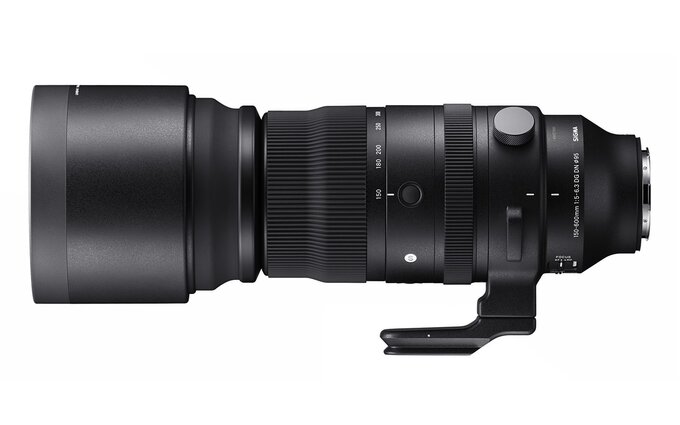 Please enjoy our gallery of sample images taken with a preproduction specimen of the brand new Sigma telephoto lens. We've used a Sony A7R IV camera.
All files are X.FINE JPEG-s with sharpening and noise reduction set to lowest availible level.
Camera: ILCE-7RM4, 150-600mm F5-6.3 DG DN OS | Sports 021
Parameters: 362.8 mm f/5.6, exp. 1/640 s, ISO 1600
File: JPG, 9504×6336 pix, 42.5 MB

Camera: ILCE-7RM4, 150-600mm F5-6.3 DG DN OS | Sports 021
Parameters: 233.3 mm f/5.6, exp. 1/250 s, ISO 2500
File: JPG, 9504×6336 pix, 47.9 MB

Camera: ILCE-7RM4, 150-600mm F5-6.3 DG DN OS | Sports 021
Parameters: 337.1 mm f/5.6, exp. 1/400 s, ISO 500
File: JPG, 9504×6336 pix, 39.8 MB

Camera: ILCE-7RM4, 150-600mm F5-6.3 DG DN OS | Sports 021
Parameters: 483.2 mm f/6.3, exp. 1/500 s, ISO 1000
File: JPG, 9504×6336 pix, 44.5 MB

Camera: ILCE-7RM4, 150-600mm F5-6.3 DG DN OS | Sports 021
Parameters: 246.2 mm f/6.3, exp. 1/250 s, ISO 160
File: JPG, 9504×6336 pix, 35.8 MB

Camera: ILCE-7RM4, 150-600mm F5-6.3 DG DN OS | Sports 021
Parameters: 468.4 mm f/6.3, exp. 1/500 s, ISO 250
File: JPG, 9504×6336 pix, 33.8 MB

Camera: ILCE-7RM4, 150-600mm F5-6.3 DG DN OS | Sports 021
Parameters: 600.0 mm f/6.3, exp. 1/500 s, ISO 100
File: JPG, 9504×6336 pix, 30.1 MB

Camera: ILCE-7RM4, 150-600mm F5-6.3 DG DN OS | Sports 021
Parameters: 398.9 mm f/6.3, exp. 1/500 s, ISO 200
File: JPG, 9504×6336 pix, 28.1 MB

Camera: ILCE-7RM4, 150-600mm F5-6.3 DG DN OS | Sports 021
Parameters: 498.6 mm f/6.3, exp. 1/500 s, ISO 400
File: JPG, 9504×6336 pix, 34 MB

Camera: ILCE-7RM4, 150-600mm F5-6.3 DG DN OS | Sports 021
Parameters: 346.4 mm f/6.3, exp. 1/400 s, ISO 500
File: JPG, 9504×6336 pix, 34.8 MB

Camera: ILCE-7RM4, 150-600mm F5-6.3 DG DN OS | Sports 021
Parameters: 346.4 mm f/9, exp. 1/400 s, ISO 1000
File: JPG, 9504×6336 pix, 41.9 MB

Camera: ILCE-7RM4, 150-600mm F5-6.3 DG DN OS | Sports 021
Parameters: 279.1 mm f/9, exp. 1/320 s, ISO 800
File: JPG, 9504×6336 pix, 40.3 MB

Camera: ILCE-7RM4, 150-600mm F5-6.3 DG DN OS | Sports 021
Parameters: 362.8 mm f/9, exp. 1/400 s, ISO 1000
File: JPG, 9504×6336 pix, 42.8 MB

Camera: ILCE-7RM4, 150-600mm F5-6.3 DG DN OS | Sports 021
Parameters: 362.8 mm f/6.3, exp. 1/400 s, ISO 640
File: JPG, 9504×6336 pix, 37.5 MB

Camera: ILCE-7RM4, 150-600mm F5-6.3 DG DN OS | Sports 021
Parameters: 328.0 mm f/6.3, exp. 1/400 s, ISO 400
File: JPG, 9504×6336 pix, 35.2 MB

Camera: ILCE-7RM4, 150-600mm F5-6.3 DG DN OS | Sports 021
Parameters: 150.0 mm f/6.3, exp. 1/160 s, ISO 2500
File: JPG, 9504×6336 pix, 44.2 MB

Camera: ILCE-7RM4, 150-600mm F5-6.3 DG DN OS | Sports 021
Parameters: 362.8 mm f/5.6, exp. 1/400 s, ISO 5000
File: JPG, 9504×6336 pix, 44 MB

Camera: ILCE-7RM4, 150-600mm F5-6.3 DG DN OS | Sports 021
Parameters: 356.1 mm f/5.6, exp. 1/400 s, ISO 5000
File: JPG, 9504×6336 pix, 43.1 MB

Camera: ILCE-7RM4, 150-600mm F5-6.3 DG DN OS | Sports 021
Parameters: 600.0 mm f/6.3, exp. 1/500 s, ISO 10000
File: JPG, 9504×6336 pix, 41.2 MB

Camera: ILCE-7RM4, 150-600mm F5-6.3 DG DN OS | Sports 021
Parameters: 600.0 mm f/6.3, exp. 1/500 s, ISO 12800
File: JPG, 9504×6336 pix, 41.8 MB

Camera: ILCE-7RM4, 150-600mm F5-6.3 DG DN OS | Sports 021
Parameters: 262.1 mm f/5.6, exp. 1/320 s, ISO 3200
File: JPG, 9504×6336 pix, 49.1 MB

Camera: ILCE-7RM4, 150-600mm F5-6.3 DG DN OS | Sports 021
Parameters: 262.1 mm f/5.6, exp. 1/320 s, ISO 3200
File: JPG, 9504×6336 pix, 47.1 MB

Camera: ILCE-7RM4, 150-600mm F5-6.3 DG DN OS | Sports 021
Parameters: 184.0 mm f/8, exp. 1/200 s, ISO 1600
File: JPG, 9504×6336 pix, 44.2 MB

Camera: ILCE-7RM4, 150-600mm F5-6.3 DG DN OS | Sports 021
Parameters: 215.4 mm f/8, exp. 1/250 s, ISO 2500
File: JPG, 9504×6336 pix, 45.3 MB