Sony DSC-HX200V - sample images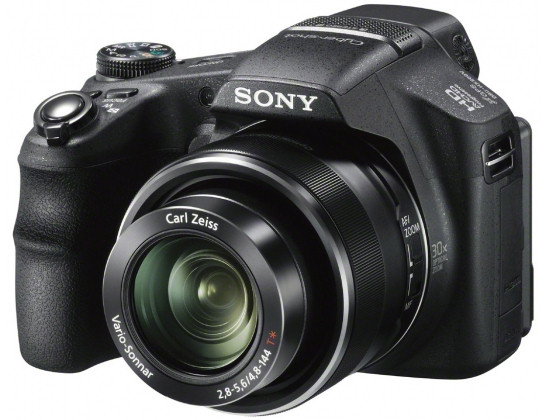 Sony DSC-HX200V was one of the compact cameras announced by Sony at the end of February. It is equipped with a lens of equivalent of focal length range 27-810 mm (30x optical zoom) and Exmor R CMOS sensor with a resolution of 18 megapixels.
At today's Sony press conference we had a chance to do some photos using pre-roduction sample of DSC-HX200V. Please note that all photos are JPEG and straight from the camera with the sharpening set to the lowest available value.
Sample images
Camera:

Sony DSC-HX200V


Parameters:

14 mm, f/5.6, exp. 1/60 s, ISO 1600


File:

JPEG, 4896 x 3672 pix, 4.46 MB

Camera:

Sony DSC-HX200V


Parameters:

14 mm, f/4.5, exp. 1/100 s, ISO 800


File:

JPEG, 4896 x 3672 pix, 5.32 MB

Camera:

Sony DSC-HX200V


Parameters:

33 mm, f/5.0, exp. 1/60 s, ISO 800


File:

JPEG, 4896 x 3672 pix, 5.06 MB

Camera:

Sony DSC-HX200V


Parameters:

5 mm, f/2.8, exp. 1/25 s, ISO 400


File:

JPEG, 4896 x 3672 pix, 5.46 MB

Camera:

Sony DSC-HX200V


Parameters:

5 mm, f/2.8, exp. 1/50 s, ISO 800


File:

JPEG, 4896 x 3672 pix, 5.82 MB

Camera:

Sony DSC-HX200V


Parameters:

5 mm, f/4.0, exp. 1/200 s, ISO 100


File:

JPEG, 4896 x 3672 pix, 4.33 MB

Camera:

Sony DSC-HX200V


Parameters:

5 mm, f/5.6, exp. 1/200 s, ISO 200


File:

JPEG, 4896 x 3672 pix, 4.13 MB

Camera:

Sony DSC-HX200V


Parameters:

48 mm, f/5.0, exp. 1/250 s, ISO 200


File:

JPEG, 4896 x 3672 pix, 4.91 MB

Camera:

Sony DSC-HX200V


Parameters:

144 mm, f/5.6, exp. 1/500 s, ISO 800


File:

JPEG, 4896 x 3672 pix, 6.98 MB

Camera:

Sony DSC-HX200V


Parameters:

144 mm, f/5.6, exp. 1/1600 s, ISO 1600


File:

JPEG, 4896 x 3672 pix, 4.87 MB

Camera:

Sony DSC-HX200V


Parameters:

69 mm, f/5.0, exp. 1/500 s, ISO 400


File:

JPEG, 4896 x 3672 pix, 4.42 MB

Camera:

Sony DSC-HX200V


Parameters:

69 mm, f/5.0, exp. 1/320 s, ISO 400


File:

JPEG, 4896 x 3672 pix, 6.47 MB

Camera:

Sony DSC-HX200V


Parameters:

9 mm, f/4.0, exp. 1/6 s, ISO 100


File:

JPEG, 4896 x 3672 pix, 5.8 MB

Camera:

Sony DSC-HX200V


Parameters:

9 mm, f/5.6, exp. 1/6 s, ISO 200


File:

JPEG, 4896 x 3672 pix, 5.29 MB

Camera:

Sony DSC-HX200V


Parameters:

9 mm, f/5.6, exp. 1/13 s, ISO 400


File:

JPEG, 4896 x 3672 pix, 6.23 MB

Camera:

Sony DSC-HX200V


Parameters:

9 mm, f/5.6, exp. 1/25 s, ISO 800


File:

JPEG, 4896 x 3672 pix, 6.37 MB

Camera:

Sony DSC-HX200V


Parameters:

9 mm, f/5.6, exp. 1/50 s, ISO 1600


File:

JPEG, 4896 x 3672 pix, 5.19 MB

Camera:

Sony DSC-HX200V


Parameters:

9 mm, f/5.6, exp. 1/100 s, ISO 3200


File:

JPEG, 4896 x 3672 pix, 5.35 MB

Camera:

Sony DSC-HX200V


Parameters:

9 mm, f/5.6, exp. 1/200 s, ISO 6400


File:

JPEG, 4896 x 3672 pix, 3.47 MB

Camera:

Sony DSC-HX200V


Parameters:

9 mm, f/5.6, exp. 1/400 s, ISO 12800


File:

JPEG, 4896 x 3672 pix, 3.28 MB

Camera:

Sony DSC-HX200V


Parameters:

5 mm, f/2.8, exp. 1/15 s, ISO 400


File:

JPEG, 4896 x 3672 pix, 4.98 MB

Camera:

Sony DSC-HX200V


Parameters:

13 mm, f/4.0, exp. 1/13 s, ISO 1600


File:

JPEG, 4896 x 3672 pix, 4.88 MB

Camera:

Sony DSC-HX200V


Parameters:

5 mm, f/2.8, exp. 1/400 s, ISO 100


File:

JPEG, 4896 x 3672 pix, 3.78 MB

Camera:

Sony DSC-HX200V


Parameters:

5 mm, f/5.6, exp. 1/200 s, ISO 200


File:

JPEG, 4896 x 3672 pix, 3.64 MB

Camera:

Sony DSC-HX200V


Parameters:

8 mm, f/5.6, exp. 1/100 s, ISO 200


File:

JPEG, 4896 x 3672 pix, 6.68 MB

Camera:

Sony DSC-HX200V


Parameters:

35 mm, f/5.6, exp. 1/320 s, ISO 200


File:

JPEG, 4896 x 3672 pix, 7.52 MB

Camera:

Sony DSC-HX200V


Parameters:

144 mm, f/5.6, exp. 1/500 s, ISO 400


File:

JPEG, 4896 x 3672 pix, 5.19 MB