Sony FE 35 mm f/1.8 i A7R IV - sample shots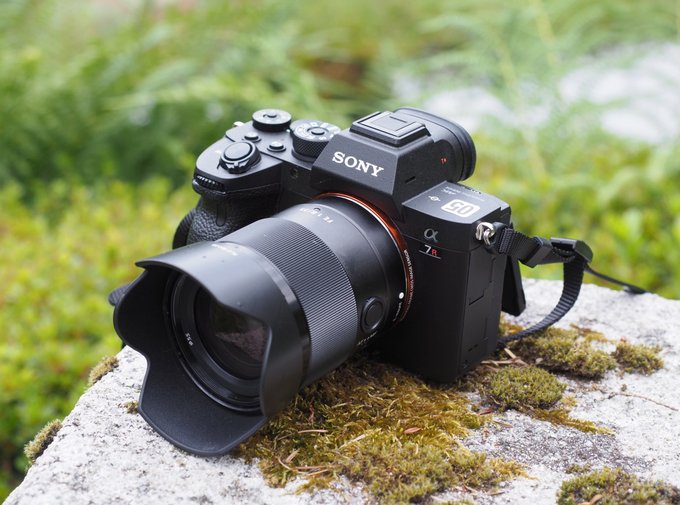 We took some sample shots with the latest lens from Sony - FE 35 mm f/1.8, mounted on a A7R IV camera. Enjoy!
All files are XFINE JPEG-s, with noise reduction set to off and minimum sharpening level (-5). All in-camera lens corrections has been turned off.
Camera: Sony A7R IV + FE 35 mm f/1.8
Parameters: 35 mm, f/2.8, exp. 1/400 s, ISO 125
File: JPEG, 9504 x 6336 pix, 32.38 MB

Camera: Sony A7R IV + FE 35 mm f/1.8
Parameters: 35 mm, f/1.8, exp. 1/3200 s, ISO 125
File: JPEG, 9504 x 6336 pix, 24.72 MB

Camera: Sony A7R IV + FE 35 mm f/1.8
Parameters: 35 mm, f/2.8, exp. 1/400 s, ISO 125
File: JPEG, 9504 x 6336 pix, 30.06 MB

Camera: Sony A7R IV + FE 35 mm f/1.8
Parameters: 35 mm, f/5.6, exp. 1/50 s, ISO 125
File: JPEG, 9504 x 6336 pix, 35.19 MB

Camera: Sony A7R IV + FE 35 mm f/1.8
Parameters: 35 mm, f/4.0, exp. 1/125 s, ISO 125
File: JPEG, 9504 x 6336 pix, 33.28 MB

Camera: Sony A7R IV + FE 35 mm f/1.8
Parameters: 35 mm, f/2.8, exp. 1/200 s, ISO 125
File: JPEG, 9504 x 6336 pix, 32.06 MB

Camera: Sony A7R IV + FE 35 mm f/1.8
Parameters: 35 mm, f/2.0, exp. 1/400 s, ISO 125
File: JPEG, 9504 x 6336 pix, 32.03 MB

Camera: Sony A7R IV + FE 35 mm f/1.8
Parameters: 35 mm, f/1.8, exp. 1/500 s, ISO 125
File: JPEG, 9504 x 6336 pix, 31.88 MB

Camera: Sony A7R IV + FE 35 mm f/1.8
Parameters: 35 mm, f/2.8, exp. 1/320 s, ISO 125
File: JPEG, 9504 x 6336 pix, 28.44 MB

Camera: Sony A7R IV + FE 35 mm f/1.8
Parameters: 35 mm, f/1.8, exp. 1/320 s, ISO 125
File: JPEG, 9504 x 6336 pix, 29.06 MB

Camera: Sony A7R IV + FE 35 mm f/1.8
Parameters: 35 mm, f/2.0, exp. 1/250 s, ISO 125
File: JPEG, 9504 x 6336 pix, 28.88 MB

Camera: Sony A7R IV + FE 35 mm f/1.8
Parameters: 35 mm, f/2.8, exp. 1/160 s, ISO 125
File: JPEG, 9504 x 6336 pix, 28.72 MB

Camera: Sony A7R IV + FE 35 mm f/1.8
Parameters: 35 mm, f/4.0, exp. 1/80 s, ISO 125
File: JPEG, 9504 x 6336 pix, 28.5 MB

Camera: Sony A7R IV + FE 35 mm f/1.8
Parameters: 35 mm, f/8.0, exp. 1/40 s, ISO 125
File: JPEG, 9504 x 6336 pix, 34 MB

Camera: Sony A7R IV + FE 35 mm f/1.8
Parameters: 35 mm, f/5.6, exp. 1/80 s, ISO 125
File: JPEG, 9504 x 6336 pix, 33.25 MB

Camera: Sony A7R IV + FE 35 mm f/1.8
Parameters: 35 mm, f/4.0, exp. 1/160 s, ISO 125
File: JPEG, 9504 x 6336 pix, 31.84 MB

Camera: Sony A7R IV + FE 35 mm f/1.8
Parameters: 35 mm, f/2.8, exp. 1/320 s, ISO 125
File: JPEG, 9504 x 6336 pix, 30.94 MB

Camera: Sony A7R IV + FE 35 mm f/1.8
Parameters: 35 mm, f/2.0, exp. 1/640 s, ISO 125
File: JPEG, 9504 x 6336 pix, 30.41 MB

Camera: Sony A7R IV + FE 35 mm f/1.8
Parameters: 35 mm, f/1.8, exp. 1/640 s, ISO 125
File: JPEG, 9504 x 6336 pix, 30.41 MB

Camera: Sony A7R IV + FE 35 mm f/1.8
Parameters: 35 mm, f/1.8, exp. 1/640 s, ISO 125
File: JPEG, 9504 x 6336 pix, 27.25 MB

Camera: Sony A7R IV + FE 35 mm f/1.8
Parameters: 35 mm, f/2.8, exp. 1/250 s, ISO 125
File: JPEG, 9504 x 6336 pix, 26.91 MB

Camera: Sony A7R IV + FE 35 mm f/1.8
Parameters: 35 mm, f/4.0, exp. 1/80 s, ISO 125
File: JPEG, 9504 x 6336 pix, 31.22 MB

Camera: Sony A7R IV + FE 35 mm f/1.8
Parameters: 35 mm, f/5.6, exp. 1/40 s, ISO 125
File: JPEG, 9504 x 6336 pix, 32.28 MB

Camera: Sony A7R IV + FE 35 mm f/1.8
Parameters: 35 mm, f/1.8, exp. 1/1000 s, ISO 125
File: JPEG, 9504 x 6336 pix, 29.78 MB

Camera: Sony A7R IV + FE 35 mm f/1.8
Parameters: 35 mm, f/2.0, exp. 1/800 s, ISO 125
File: JPEG, 9504 x 6336 pix, 29.34 MB

Camera: Sony A7R IV + FE 35 mm f/1.8
Parameters: 35 mm, f/1.8, exp. 1/1600 s, ISO 125
File: JPEG, 9504 x 6336 pix, 27.31 MB

Camera: Sony A7R IV + FE 35 mm f/1.8
Parameters: 35 mm, f/2.0, exp. 1/1250 s, ISO 125
File: JPEG, 9504 x 6336 pix, 27.53 MB

Camera: Sony A7R IV + FE 35 mm f/1.8
Parameters: 35 mm, f/2.8, exp. 1/640 s, ISO 125
File: JPEG, 9504 x 6336 pix, 26.44 MB

Camera: Sony A7R IV + FE 35 mm f/1.8
Parameters: 35 mm, f/4.0, exp. 1/400 s, ISO 125
File: JPEG, 9504 x 6336 pix, 26.28 MB

Camera: Sony A7R IV + FE 35 mm f/1.8
Parameters: 35 mm, f/8.0, exp. 1/60 s, ISO 125
File: JPEG, 9504 x 6336 pix, 36.09 MB

Camera: Sony A7R IV + FE 35 mm f/1.8
Parameters: 35 mm, f/4.0, exp. 1/40 s, ISO 160
File: JPEG, 9504 x 6336 pix, 32.34 MB

Camera: Sony A7R IV + FE 35 mm f/1.8
Parameters: 35 mm, f/5.6, exp. 1/40 s, ISO 400
File: JPEG, 9504 x 6336 pix, 35.06 MB

Camera: Sony A7R IV + FE 35 mm f/1.8
Parameters: 35 mm, f/8.0, exp. 1/40 s, ISO 800
File: JPEG, 9504 x 6336 pix, 41.41 MB

Camera: Sony A7R IV + FE 35 mm f/1.8
Parameters: 35 mm, f/1.8, exp. 1/100 s, ISO 125
File: JPEG, 9504 x 6336 pix, 36 MB

Camera: Sony A7R IV + FE 35 mm f/1.8
Parameters: 35 mm, f/2.0, exp. 1/100 s, ISO 125
File: JPEG, 9504 x 6336 pix, 36.09 MB

Camera: Sony A7R IV + FE 35 mm f/1.8
Parameters: 35 mm, f/2.8, exp. 1/50 s, ISO 125
File: JPEG, 9504 x 6336 pix, 35.94 MB

Camera: Sony A7R IV + FE 35 mm f/1.8
Parameters: 35 mm, f/4.0, exp. 1/40 s, ISO 200
File: JPEG, 9504 x 6336 pix, 38.69 MB

Camera: Sony A7R IV + FE 35 mm f/1.8
Parameters: 35 mm, f/5.6, exp. 1/40 s, ISO 400
File: JPEG, 9504 x 6336 pix, 41.34 MB

Camera: Sony A7R IV + FE 35 mm f/1.8
Parameters: 35 mm, f/8.0, exp. 1/40 s, ISO 800
File: JPEG, 9504 x 6336 pix, 46.38 MB

Camera: Sony A7R IV + FE 35 mm f/1.8
Parameters: 35 mm, f/2.8, exp. 1/250 s, ISO 125
File: JPEG, 9504 x 6336 pix, 24.91 MB

Camera: Sony A7R IV + FE 35 mm f/1.8
Parameters: 35 mm, f/4.0, exp. 1/125 s, ISO 125
File: JPEG, 9504 x 6336 pix, 24.94 MB

Camera: Sony A7R IV + FE 35 mm f/1.8
Parameters: 35 mm, f/5.6, exp. 1/60 s, ISO 125
File: JPEG, 9504 x 6336 pix, 25.44 MB